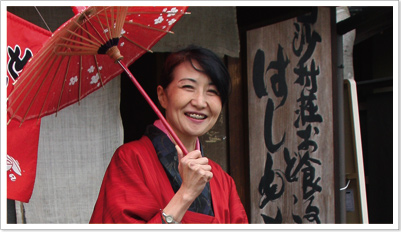 If so, wouldn't you like to have a special tour designed just for you, not just a typical "tourist" tour?
Please count on me!
My name is Mari Katsui. I am a licensed English guide for foreign tourists in Japan.
I have been working in the travel industry for more than twenty-two years, not only as a guide, but also coordinating and giving advice to many tours, especially SITs (Special Interest Tours).
I take clients all over Japan , from Hokkaido to Okinawa, for one day to three weeks.
Below are three recommendation letters from long-time clients and an example of one of our tours.
Please send me an e-mail if you would like to know more.
I look forward to hearing from you!
Sincerely,

Mari Katsui
────────────────────────
Patricia Graham
Asian art appraiser and former professor and curator of Japanese art
Lawrence, Kansas, USA.



Mari Katsu is the best Japanese tour guide I have ever encountered.

We first became acquainted in 2002, when she escorted a cultural tour that I had been hired to accompany as a scholarly lecturer. Since then we have worked together several more times.

Traveling around Japan with Mari is a magical experience. Her elegant, fluent English enchants all the visitors whom she accompanies and her warm hearted, generous nature puts everyone at ease.

She goes out of her way to make sure each person is special and well cared for, effortlessly diffusing any difficulties and imparting her deep knowledge of Japan and its culture and society with charm and wit.

With Mari in charge, traveling overland by bus is a joy, as she uses what might otherwise be wasted time to impart all sorts of interesting information about Japan in a disarming, informal manner, sometimes through spontaneous singing.

In addition, apart from touring together, I have had the privilege of listening to Mari in concert as jazz singer, in intimate Kyoto clubs, where she was warmly received by all in the audience.







────────────────────────

Martha Wright
Adjunct Lecturer in Asian Art
Museum of Fine Arts, Boston
465 Huntington Avenue Boston, MA 02115



Mari Katsui is the hands-down best Tour Manager and Escort one could possibly want for a visit to Japan. I first met Mari when she was assigned to conduct a specialized art tour of Japan which I was leading for a very distinguished group from the Smith College Alumnae Association in April, 1999. From start to finish, this tour was a roaring success thanks almost entirely to Mari's skill, energy, and competence. Since then I have always engaged Mari as our tour escort on the many tours I continue to organize, mainly for the Museum of Fine Arts, Boston. And, she and I have become not only professional colleagues but dear friends as well.

Mari is smart, sensitive, sensible and very aware of the multiple needs of the passengers, the program, and the particulars of the day. Her groups always arrive at the appointments on time; she thinks ahead and makes any necessary adjustments to the schedule; and she makes the travel time between destinations lively and exciting with fascinating talks about the life, culture, history, art, past and future of Japan. She is a born teacher and her passenger/students are delighted to be taught some basic Japanese language, Japanese folk songs, origami, and the like. She is adept at providing lots of information and expressing it in such a way that the visitors know they have the full picture.

Mari has lots of contacts in Japan certainly due to her warm personality and genuine enthusiasm for all dimensions of Japanese culture. And, she is very generous with her friendships often introducing a visiting group to some new people, programs, or opportunities. She knows many artists, professors, curators, priests, and business people personally and does not hesitate to contact any one of these for the benefit of the visitors.

Mari is very easy to work with. She is flexible, inventive, and always looking clever news ways to enhance the visitors experience.

Mari possesses two very unique strengths which place her in the very highest caliber of tour guide, translator, interpreter, and escort: her winning sense of humor, and her beautiful voice. There have been many long days when the ride back to the hotel was eased by Mari's soothing melodies and poignant love songs.

At every Sayonara Dinner I have organized at the end of a tour Mari has always presented each guest with a Farewell gift of a paper wallet, a short note with their name written in Japanese, and an origami crane for good luck. I have seen many visitors with tears in their eyes as they waved good-bye to Mari from the bus.

Everyone has always agreed that Mari Katsui is the best ambassador that Japan could possibly ever have!



────────────────────────

Graham Ross
Dip Teach, Dip Hort, Dip Park Admin, MAIH, MHMA, President, Horticultural Media Association
Australia Day Ambassador, Monday, 8th February 2010 Ambassador, Royal Institute for Deaf and Blind Children



To Whom It May Concern

This letter is to state that I have known Ms. Mari Katsui of Kyoto, Japan, for about 15 years. In that time she has acted as the Tour Guide and Interpreter for all of our international garden tours to Japan.

Our company was the first to establish Japan as a tourist destination between Australia and Japan in 1980. This humble beginning helped establish our company into the worlds' largest specialist garden tour operator with offices in Sydney, London, and Vancouver. Since 1980 we have taken over 27,000 people on 430 global tours.

But Japan has been the only yearly constant destination and we have led over 30 tours between the two countries. Over 1000 travellers have joined me on these tours to learn about Japan and to experience its culture. Ms. Katsui has been an essential component of that process sharing her knowledge and passion for her home country and its complex history. This she has done in a very professional, informative and friendly way.

Our tours include premium travellers and Mari has an ability to share her information, wisdom and facts on Japan in an authoritative and personable manner.

On several occasions over the last 15 years I have been asked by the Japanese Consul General in Australia to represent Australia at meetings and events in Japan. I have been very lucky to have had Ms. Katsui as my interpreter at these meetings. She is always very professional and competent.

On all of our tours to Japan we have visited Mr. Saburo Kato at his home and nursery in Omiya Village. Mr. Kato was the Chairman of the Nippon Bonsai Association. This most important Japanese Living Treasure was advisor to the Japanese Prime Minister Obuchi and his Government in its dealings with United States President Clinton in the selection of a major bonsai plant to be kept at the White House in Washington. Kato-san was the world's most important ambassador for bonsai and peace. Ms. Katsui has always displayed the utmost respect and honour to this Very Important Japanese Person.

In 2004 I commenced an honorary association with Suntory Flowers, Japan's major plant breeding company. Meetings were held in Tokyo and Ms Katsui joined me as my interpreter. She performed her work in a thoroughly competent and expedient way. Mr. Shigeru Sarada, Managing Director of Suntory Flowers has often commented on her excellent language skills.

This association between my company in Australia and Suntory Flowers has resulted in the biggest horticultural merger in Australia's history between Suntory Flowers and Oasis Australia. These important business arrangements keep Japan and Australia trading and doing business to the benefit of both nations in an efficient, peaceful and friendly way. Ms. Katsui has helped greatly in that work.

In 2008 I filmed my television programme in Kyoto, Japan for broadcast in Australia. This award winning programme introduced over 1.5 million Australians to the beauty of Japan. Ms. Katsui was integral in assisting me to make this programme so successful.

In 2009 we brought a group of American VIP's to Japan, to meet with Mr. Sarada and to experience Japan's finest horticulture. Ms. Katsui led that tour very capably as I would expect. We received many compliments for her diligent work.

On a personal level, when I ask my groups each year what they most enjoyed about their tour of Japan they always combine many gardens, attractions and the Ryokan experience. But they unanimously applaud the friendly, efficient and helpful manner in which Mari Katsui carries out her duties. And as for her beautiful singing each morning, it is an absolute delight, what a very talented person. She should be a recording star.

The author looks forward to working with Ms. Mari Katsui for many years to come and remains available to extend this reference by email to any interested party she may contact.

Yours sincerely,
Graham Ross